Self Catering Accommodation
said of a holiday, accommodation, etc: providing facilities allowing guests and residents to prepare their own meals.
self-catering. Brit. Referring to an apartment or efficiency in which guests can take care of their own meal and laundry needs.
What does "Self Catering " mean?
Self Catering means that you are being provided with accommodation that has facilities to allow you to cook and cater for yourselves whilst in Ischia. You are not provided with a meal by the establishment owners or property owners during your stay- but they have given you all you need to cater yourselves.
Advantage of beeing an individual traveller:
In Ischia there is a large number of Restaurants to choose from and can be found in almost all villages around the Ischitans Islands. This leaves you with a choice of cooking, catering for yourselves at the property or dining out by shopping around in one of the many restaurants you can find. The option of self catering leaves the freedom of deciding what you want to do on a daily basis, leaving you totally in control on how to spend your day, and where you want to spend it. :
Definition of Self Catering: adjective, noun [U, not gradable]
BRITISH AND AUSTRALIAN
(of a holiday) having a kitchen so that you can cook meals for yourself rather than having them provided for you . Holiday makers have the option in self-catering apartments/accommodation.
As the prime setting for a self-catering family holiday I can hardly fault it. We decided to go for self-catering rather than stay in a hotel ( Collins Dictionary )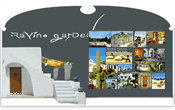 Welcome to the residence VILLA RAVINO, a family establishment with self catering apartments offering you a relaxing holiday on the charming island of Ischia. An enchanting place lying in the heart of the Mediterranean, an hour's sea journey from the city of Naples. Renowned for its volcanic origins and rich soil, Ischia offers a wonderful climate all year round with unforgettable landscapes immersed in blooming flora of vivacious colours, lemon, orange, olive trees and grape vines. Your days can be taken leisurely on one of ourbeaches or small romantic bays looking out at the deep blue Mediterranean sea. Alternatively you can explore Ischia's historic villages and museums or take in the beautiful scenery on a walk or via horseback trekking. An unforgettable visit is to the beautiful garden "La Mortella" created by Lady Susana, the widow of Sir William Walton. Here you can listen to classical concerts.With our Mediterranean time-clock, you would have enjoyed an afternoon's siesta and can now shop late into the evening.
Otherwise evenings can be passed peacefully watching the sun setting over the sea whilst sampling fresh local dishes and wines in one of Ischia's rest.nts. Ischia has many religious festivals often resulting in evening fireworks and street entertainment.
A cradle of art, Ischia has hosted personalities of great humanity and culture such as Bargheer, Auden, Stendhal, Ibsen, Bursche, Neil Little, Kallman, E.d'Assia, Luchino Visconti. There are many local painters and sculptors with various galleries on the island. In this stunning scenario, you will find an idyllic setting for cures and well-being.
Garden News
This is a unique concept on Ischia, fusing a lodge house with an extravagant garden. This garden, along with the mature areas around Villa Ravino, is the result of 35 years of great passion and loving work of Signor Peppino, the owner of the Villa. The exotic trees include palms, olive, lemon and orange. Cascading over the walls, pergolas and terraces are grape vines as well as numerous flowering climbers - providing a multitude of rich colours. A speciality of Signor Peppino are succulent plants and cacti. These are abundant throughout the garden and obviously thrive in the Ischia climate. Throughout our scent and colour filled garden are paths and steps to let you wander through and take in the serenity.

The thermal parks -with alternative and avant-garde therapies - are unique in the world and include the POSEIDON, NEGOMBO, and many more. Here you can bathe in mineral rich spa water refreshed daily from the hot volcanic springs, or sit in steam rooms cut into the rock - an experience dating back to the Roman times. From Ischia there are daily excursions visiting the cultural and archaeological sites of Pompeii, Herculaneum, Vesuvius, the beautiful Amalfi coast (Sorrento) and the island of Capri .